ARCADA® Mobile Shooting Range is a turnkey indoor live fire training facility based on a 40ft ISO container which can be shipped by various standard means of transport and rapidly deployed with minimal infrastructure. The module provides a year-round shooting environment for military and defense sectors. As well as it is becoming a popular solution for firearms businesses and personal use.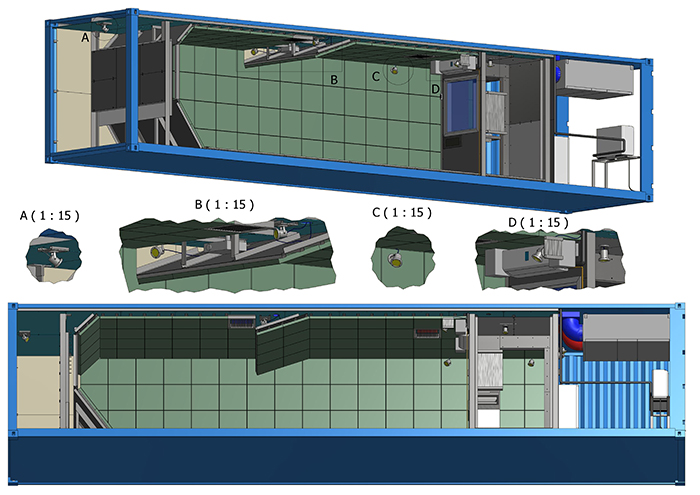 ARCADA® Container Shooting Range comes complete with 360-degree ballistic containment, anti-ricochet treatment, acoustic and thermal insulation. The module is equipped with a compact powerful HVAC system with the filtration function to ensure excellent indoor air quality. ARCADA® Interactive Live Fire Shooting Simulator is utilized as a space-effective hi-tech digital target system and a robust steel bullet trap. The mobile gun range can accommodate up to 2 shooters, and provides up to 50m simulated firing distance.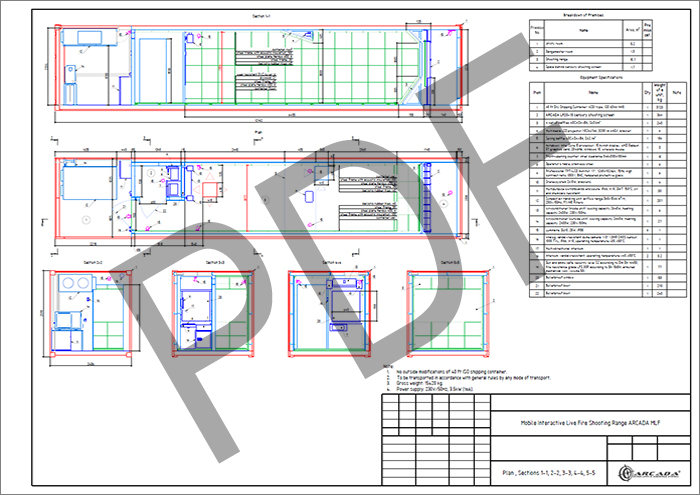 ARCADA® Mobile / Container Shooting Range is operated from a bulletproof control booth with the ballistic glass viewing window for maximum protection against any security threat. An instructor and shooters communicate via two-way intercom. Weapons and ammunition are stored in a burglary and fire resistant safe, and are handed over to range users through a reliable front-opening transfer tray. An access control system (CCTV, magnetic lock, electronic keys) is installed to prevent unauthorized entry. The module is fitted with lighting fixtures and fire extinguishers.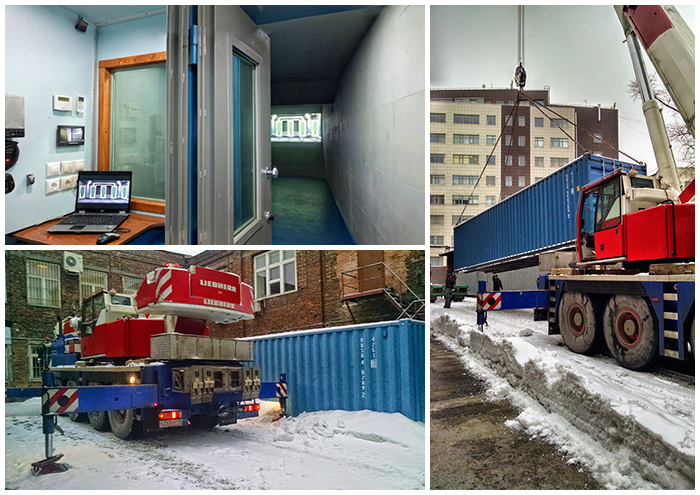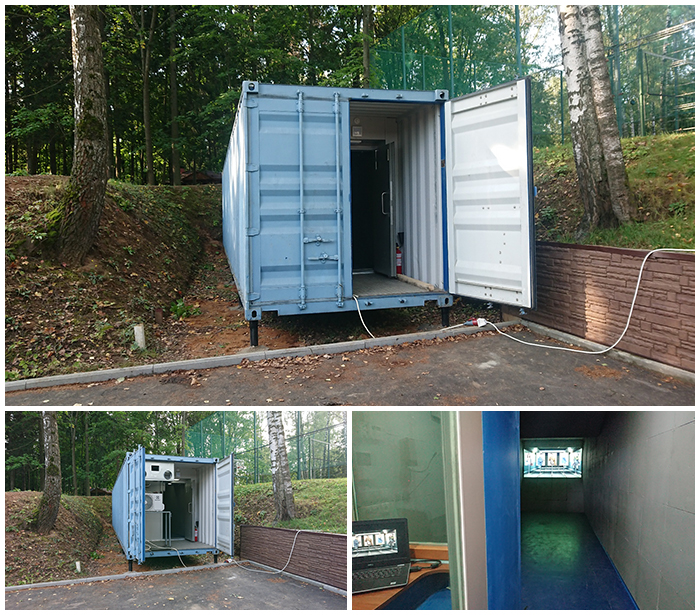 ARCADA® Mobile / Container Gun Range Practical Advantages:
Smart engineering solutions. All crucial components of a fully equipped indoor firing range are properly fitted into a standard 40ft shipping container with no outside modifications and structures.
Safety. The reliable design and construction ensure the safety of range users (ballistic protection, clean air, comfortable temperature) and prevent the risks for outside environment (bullet escape, lead emissions, high sound levels).
Portability. The unmodified ISO container can be easily transported by truck, train, ship and airplane. Quick loading, unloading and logistics benefit to short installation time.
Instant deployment. With rapid connection to power supply and no concrete base required, the mobile gun range is convenient for firearms training at various locations.
Durability. Due to sturdy high-grade steel exterior, the container shooting range can withstand extreme weather conditions. Secure locking mechanisms fully protect against access without permission.
Functionality. The built-in ARCADA® Interactive Live Fire Shooting Simulator allows to conduct versatile training using regular firearms along with live ammunition while completely avoiding the waste of paper targets.
Resilience. The use of premium durable materials and technologically advanced equipment contributes to low maintenance and 10+ years proven service life.